RIDGE BEEKEEPERS ASSOCIATION, INC.
Polk County, Florida
We are a Beekeepers Club for current, wannabee, and used-to-bee beekeepers, in the central Florida area.  Our members come from Polk County and surrounding counties such as Lake, Highlands, and Hardee Counties.
October 16 next  Meeting 
We are back at the Polk County Ag Center
1702 S Holland Parkway, Bartow
7pm
Seminar
We had our seminar in
May of 2023, our
next one will be in 2025.
Our members have a wealth of knowledge about beekeeping. Members include hobbyists, sideline and commercial beekeepers, honey producers, and queen producers. We have members from Polk County, and the surrounding counties such as Lake, Highlands, and Hardee.
Our Meetings
Our meetings are on the 3rd Monday of the month, starting at 7 p.m., and a field/workday normally the following Saturday.
Come enjoy a potluck dinner where you can meet new people, learn tips of the trade, and experience the wonderful, mysterious, world of bees and beekeeping.
Check the website each month to make sure where the meeting is!

We are your Beekeeping club in Polk County, Florida, there is no cost to attend any of our meetings.
However, if you want to join, the annual RBA family or household membership is $15.00.
Commercial beehives on pollination
Come join us to get some hands-on experience.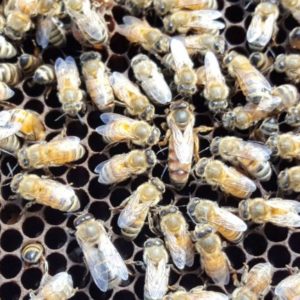 Soon you too will fall in love with these insects
"The day  (morning) in the beeyard was a great introduction into keeping honeybees! I was able to learn from and work right alongside an experienced beekeeper.  All my questions were answered.  I am buying equipment now and thanks to the RBA-provided info, I know what to look for.
Thank you! "  rv 
Ridge Beekeepers Association, Inc.  All rights reserved 2023